Knees have to perform a pretty difficult task. Three bones have to come together and glide smoothly while being compressed with multiples of our bodyweight. Bone on bone doesn't glide smoothly but the smooth glide is achieved by two things: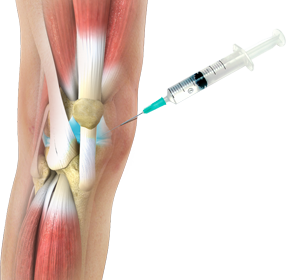 One is cartilage: we start life with a nice thick smooth layer of cartilage that lines the bones. It's worth remembering though that no matter how smooth 2 surfaces are, they will still have considerable friction between them when under a compressive load.
This is where the second component comes in: synovial fluid. The joint fluid inside our knees has a perfect balance of elasticity and viscosity that makes the smooth surfaces glide freely under load. The ancient Egyptians worked that out and were able to move big smooth blocks quite easily once the two surfaces were wet or lubricated.
Much of the viscosity and elasticity of the joint fluid in our knees comes from a molecule called Hyaluronic Acid (HA).
Not only do arthritic knees show irreversible wearing down of the cartilage but they also have reduced amounts of HA.
We can now synthetically replace HA in knees with a safe and simple injection. The result is increased shock absorbing properties to the joint fluid. The process is called Viscosupplementation.
Research will continue to try to reach the holy grail of treating wear and tear in weight bearing joints which would be successfully regenerating cartilage. Unfortunately, despite extensive research to date there has been much hype and very little success with into surgical procedures, cartilage grafting and stem cells.
In the meantime, viscosupplementation is a simple, proven, safe and under-utilised treatment that can be effective in reducing pain, improving function, delaying further deterioration and has been consistently shown in trials to delay the need for surgery in knee joint cartilage damage and osteoarthritis.
Click Here to like my facebook page to stay up-to-date with regular blogs from the fields of sport, medicine and exercise health.